Summer Camps
We offer summer camps every year. Our campers participate in a variety of activities, including
Learning to care for horses andd other animals
Learning safe horsemanship
Learning basic riding (walk, trot, canter)
Learning how to tack and untack(saddles, bridles, etc)
Ground working horsesl
Ranch art (painting fences and jumps)
Swimming
Building camp fires and cooking out
Songs and stories
Star gazing and Fireworks
Our camps have a 1 - 4 supervisor to child ratio.
Preparing for Camp
Campers should bring: Jeans, boots, swimsuit, sunscreen, sleeping bag, pillow, camera, a horse movie to share.
Do not bring: Cell phones, computers, video games.
For those not sleeping over, parents can drop their children off between 8 and 9 in the morning. Evening pickup is between 8 and 9 pm.
Scheduling
In 2013, we will have camp on the following dates:
To reserve a spot, please contact us.
Cost
Our 2013 rates are:
| | |
| --- | --- |
| 1 Day | $150 per person |
| 2 Days, 1 Night | $300 per person |
| 3 Days, 2 Nights | $400 per person |
| 4 Days, 3 Nights | $500 per person |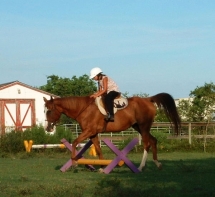 Splash jumping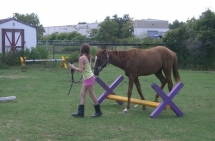 Learning the course
Learning to take care of horses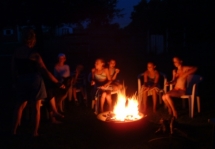 Hanging around by the campfire