About RandM Stables
RandM's motto is "For horses and people who love them". RoseAnn Carr is the owner and one of the trainers at RandM. She has been a horse person since age 5 when her big brother got a horse. It wasn't long before she took over caring for and riding it. While she grew up trail riding in the western style, on her trips to Ireland, she became fascinated with Thoroughbreds and the English saddle, and jumping.
She bought the property and moved to Cypress to have her horses with her and, more importantly, to be able to offer an affordable and fun horse/riding experience to children and adults. She still only offers private and semi-private lessons to ensure that everyone that comes to RandM gets the individual attention that they desire.
Over the years, RoseAnn has become involved in horse rescue. Many of the fabulous lesson horses at RandM have been rescued, rehabilitated and retrained for their new jobs at their forever home.
RandM welcomes beginners (ages 5 and up) and pleasure riders. Their facilities and trainers offer a variety of disciplines including hunter/jumper, dressage, eventing, western pleasure, and barrel racing. The "M" in RandM stands for Meg, her daughter, who is also a horse lover.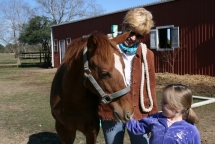 MissyD and a young rider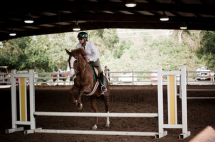 RoseAnn jumping Splash at a local show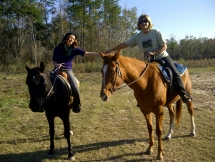 RoseAnn and Meg trail riding at Pundt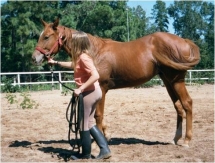 Meg and Seattle when we first got him.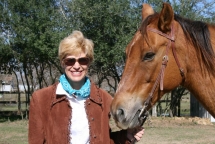 Me and Chief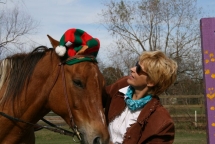 Holiday photo for Big Chief