Meet Our Horses :: For Sale / Lease
Many of our horses were rescues that we took in and gave a second start in life. This page will give you a brief introduction to our horses, but the "Read My Story" links will take you to pages where you can learn more about some of their amazing histories and the odds that they have overcome.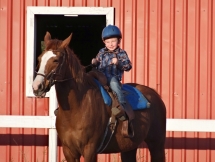 Landen, 5 year old rider on Splash
Splash
15 hand Paint Appendix mare, confidence-building all-arounder
Splash is an exceptionally well trained and show-seasoned paint. Perfect size at just a little over 15 hands, she is great for western pleasure, trail riding and hunter jumper. At age 20+, she is calm, sure footed and loves small children as well as adults. She is always a favorite of new riders, or those wanting to learn to canter with confidence. She has won hunter and western events.
Available for 1/2 lease!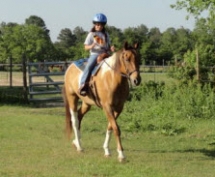 Mira riding lesson on Big Chief
Big Chief
16+ hand paint gelding
Chief is our gentle giant. He is 24 years young and has been with us for 18, so we know him well. We call him "Big" Chief because he is the boss of the other horses. He is 16+ hands tall and very strong. He will walk, trot, canter, go over jumps and run around barrels. He has a slow walk and a very smooth trot. Because he is so smooth, he is a great horse for kids and beginners that don't want to go too fast.
Available for 1/2 lease!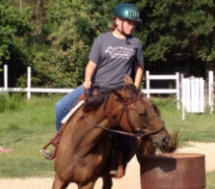 Emily learning barrel racing on Ginger
Ginger
15 hand Thoroughbred mare, 20+ years old
My little Thoroughbred mare is 15 hands tall. She loves to run, and is a great horse for riders with some experience. She will go through all gates on command. Great on barrels too! Ginny is push button, soft in the mouth and responsive.
Full or half lease available!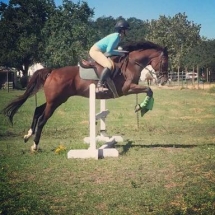 October 2014 Savannah on John
John
16 hand Thoroughbred, Hunter/Jumper
John (Soup of the Day) is now 16. Fabulous bloodlines and confirmation. After a nice career on the track, became a trail horse. Unfortunately, his owners did not take good care of him and he nearly died. John has quickly learned to jump and has been schooled in dressage. He is sweet, honest and very willing. He was in the ribbons in 4 classes at his first show in beginner hunter and has continued to do great at shows. Wonderful horse even for beginner jumpers. He is kind and honest, doesn't spook and will do anything you ask of him.
Available for lease to a committed rider that will love him and want to show!
Here is a clip of John's Sire in an amazing upset in the Breeder's Cup.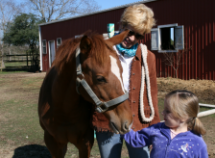 Missy D
Nice Eventing Prospect - Registered Paint 14.2 hands
Miss Special Dixon came to us as a boarder when she was just a baby. Her owners disappeared and we raised and trained her. She has been used extensively in 4H shows in her early years, but more recently has shown beautifully in Hunter. She is great over fences. Quiet, great ground manners, a real pocket horse. Good with kids, but really shines as a pony jumper. She is young, just 11, so lots of good years ahead for her. She needs an experienced rider that wants an athletic horse. She would do well in eventing.
Available for lease!