Meet Our Horses
Many of our horses were rescues that we took in and gave a second start in life. This page will give you a brief introduction to our horses, but the "Read My Story" links will take you to pages where you can learn more about some of their amazing histories and the odds that they have overcome.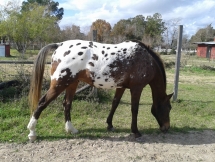 It was a long rehab, but he is looking and feeling great.
Kasey
15.3 H Blanket Appaloosa - USDF
Kasey (Talk Around Town) is now 22 years young. He is a perfect gentleman. Shown in dressage 2nd level, schooled through 3rd level. Also shown in hunters. Kasey survived Katrina and was evacuated to Houston, he has had other setbacks along the way, but is doing incredibly well now. He is one of the best horses you will ever ride. Lovely in dressage and fun over fences. Great with kids too!
Available for 1/2 lease!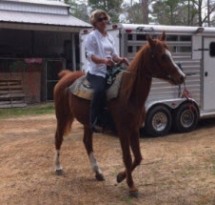 Out for a trail ride on Lady
Lady
Retired Spanish Arabian, all-around horse
Lady was trained in trail and endurance before we got her. She has a quick walk and trot and easy over small jumps. Great training horse for kids and adults. She is over 25 and no longer sound, but has a home with us and her favorite pasture mate for life.
Hannah and her favorite horse Blackie
Little Black
Black Arab 13 hands, 20+ years old
Black was rescued from a bad situation and ended up here with us. He was very thin, out of shape and needed a job. With love and groceries, he transformed into a very stylish, willing, great riding horse. He is well mannered on the ground and under saddle. Great for kids.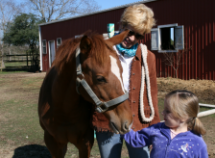 Missy D
Registered Paint 14.2 hands
Miss Special Dixon came to us as a boarder when she was just a baby. Her owners disappeared and we raised and trained her. She has been used extensively in 4H shows. Quiet, great ground manners, a real pocket horse. Good with kids, but really shines as a pony jumper. She is able to complete up to 3' courses. She is young, just 10, so lots of good years ahead for her.
Available for lease!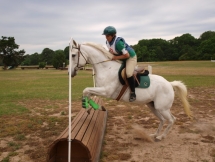 Reserve Champion in her first Hunter Derby!!
Prissie
Retired 26 year old Thoroughbred mare
Miss Priss was a race horse in an earlier life. She is 16 hands tall and very stylish. She has been with us for 12 years and has wonderful ground manners. Prissie is now retired after being a fabulous hunter/jumper. She can be ridden lead around and is a favorite for love hug and groom.