Meet Our Horses :: Retirees
Many of our horses were rescues that we took in and gave a second start in life. This page will give you a brief introduction to our horses, but the "Read My Story" links will take you to pages where you can learn more about some of their amazing histories and the odds that they have overcome.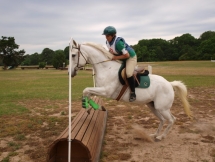 Reserve Champion in her first Hunter Derby!!
Prissie
Retired 28 year old Thoroughbred mare
Miss Priss was a race horse in an earlier life. She is 16 hands tall and very stylish. She has been with us for 16 years and has wonderful ground manners. Prissie is now retired after being a fabulous hunter/jumper. She can be ridden lead around and is a favorite for love hug and groom.