Welcome!
RandM Stables is a full-care boarding facility and riding lesson program located in Cypress, Texas close to Tomball, Texas (northwest Houston).
We teach English and Western riding lessons in a family-friendly environment. If your child loves horses or is curious about horses, give us a call at 713-504-4198 or contact us.
Our students learn about caring for and riding horses in a safe environment with one-on-one instruction. You or your child will develop at a pace that is comfortable for you.
When it comes to horse back riding or learning to care about horses, we are the best!
News and Events
November 10, 2016
May 04, 2014
October 12, 2014
October 19, 2013
June 10, 2013
Spotlight
Summer Camp is Coming!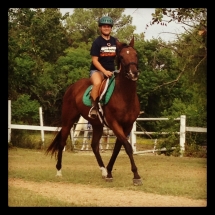 Summer is coming, and we're preparing for camp. Are you ready? Click the link below to learn more about what you can expect from one of our camps!