Meet Kasey
15.3 H Blanket Appaloosa - USDF
I was looking to buy a dressage horse to learn on. A good friend told me that I needed to see Kasey. He had been at her stables for years where he was trained and shown extensively by his owners. They sold him finally, and after 2 years with the new owner he was put back on the market. I was very excited. My trainer and I went to meet him with the trailer in tow.
When we got there we were saddened by his condition. He was severely underweight and had lost a lot of muscle. I went into his stall and he wrapped his neck and head around me….well, I could not leave without him. So instead of a ready to go School Master for my dressage training, I had a horse that needed major rehabbing. It took months with some big vet bills along the way, but he is now at ideal weight and has regained much of his muscle.
I cannot say enough about how good this horse is. I trust him completely and am learning much from riding him in dressage and over fences. Although he is the horse that I mainly ride, he is also one of the most requested lesson horses. He is a perfect gentleman for the little ones and we use him for birthday parties, for safe up/down lead around.
He is the perfect lease horse for a dressage rider, or someone that wants to show in hunter….I would only share him with someone that will love him as much as I do.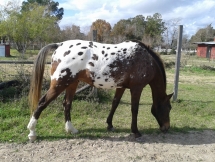 It was a long rehab, but he is looking and feeling great.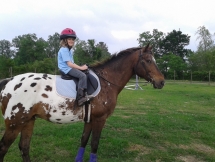 Olivia (age 8) riding Kasey