Meet Our Horses :: Over the Bridge
Many of our horses were rescues that we took in and gave a second start in life. This page will give you a brief introduction to our horses, but the "Read My Story" links will take you to pages where you can learn more about some of their amazing histories and the odds that they have overcome.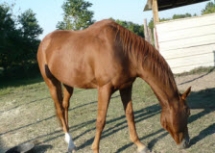 Seattle
Thoroughbred gelding
We lost our Seattle in his 10th year. He was away for training and never returned to us. RIP my beautiful boy.