Meet Our Horses :: Over the Bridge
Many of our horses were rescues that we took in and gave a second start in life. This page will give you a brief introduction to our horses, but the "Read My Story" links will take you to pages where you can learn more about some of their amazing histories and the odds that they have overcome.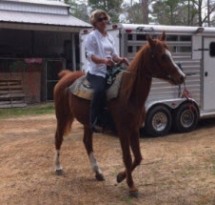 Out for a trail ride on Lady
Lady
Retired Spanish Arabian, all-around horse
Lady had cushing's and battled recurring laminitis. When it got to the time where we could not keep her comfortable, the decision was made to set her free. Lady was trained in trail and endurance before we got her. She was in her late twenties when she passed and had been retired at age 25.
Hannah and her favorite horse Blackie
Little Black
Black Arab 13 hands, 25+ years old
We lost our beloved Little Black in March of 2018. I was with him as he went peacefully to heaven. Black was rescued from a bad situation and ended up here with us. He was loved by us and a lot of great kids who spoiled him. He was very thin, out of shape and needed a job when he first came to us years ago. With love and groceries, he transformed into a very stylish, willing, great riding horse. RIP beautiful boy.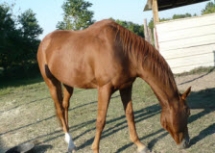 Seattle
Thoroughbred gelding
We lost our Seattle in his 10th year. He was away for training and never returned to us. RIP my beautiful boy.