News and Events
Learn more about upcoming and past events at R and M Stables.
Open Position for riding instructor. Must have solid horsemanship/riding experience. Part-time. Willing to train a good rider to be a great instructor. Please email randmstables@aol.com with interest and experience.
July 2012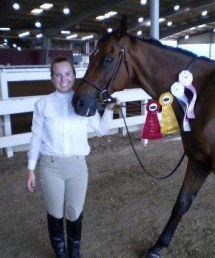 John and Deanna after the horse show
John and Deanna at Great Southwest
John (Soup of the Day) and Deanna in their first show at Great Southwest Equestrian Center, beginner hunters. Deanna was riding in her first competition ever, and John had only competed on the race track prior. He was a perfect gentleman. His fan club is anxious to see him in more jumping and dressage shows soon.