News and Events :: News
Learn more about upcoming and past events at R and M Stables.
Open Position for riding instructor. Must have solid horsemanship/riding experience. Part-time. Willing to train a good rider to be a great instructor. Please email randmstables@aol.com with interest and experience.
November 2016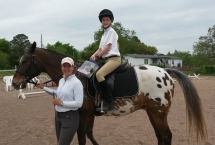 Emma on Kasey at Dressage Clinic
Dressage Clinics
We try to hold 2-3 dressage clinics each year with our fabulous clinician, Alison MacDonald. Riders each get a 45 minute private session with her and learn a lot from watching other riders perform and fine tune their riding skills. At RandM, dressage principles are incorporated into all training. Western riders are always welcome at our clinics.
More about Alison here: https://www.facebook.com/MacDonaldDressage/
We price our clinics so that anyone can participate…under $100!!!
October 2014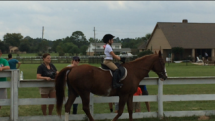 Ashlyn in her first competition, riding Splash in the Walk Class.
GrandView Show
We took 5 horses and 7 riders to Grandview on Sunday. Most of the girls were showing for the first time. Very proud of them…lots of fun.
April 2013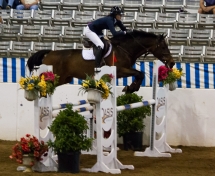 Pin Oak Charity Horse Show
One of our fabulous trainers qualified for the $20K Jumpers Invitational…..she came in 4th!! This was a catch ride on a horse she only schooled on for 2 weeks.
Great job Savanna!!!!
September 2011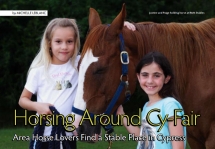 Splash and two of our young riders in the magazine article
Article in Cy-Fair
Article in Cy-Fair Magazine
Click Here for full article.