News and Events :: Shows
Learn more about upcoming and past events at R and M Stables.
Open Position for riding instructor. Must have solid horsemanship/riding experience. Part-time. Willing to train a good rider to be a great instructor. Please email randmstables@aol.com with interest and experience.
October 2014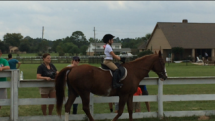 Ashlyn in her first competition, riding Splash in the Walk Class.
GrandView Show
We took 5 horses and 7 riders to Grandview on Sunday. Most of the girls were showing for the first time. Very proud of them…lots of fun.