News and Events
Learn more about upcoming and past events at R and M Stables.
Open Position for riding instructor. Must have solid horsemanship/riding experience. Part-time. Willing to train a good rider to be a great instructor. Please email randmstables@aol.com with interest and experience.
October 2013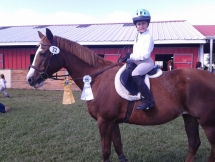 Sami took a 3rd and 4th on our girl Splash...great job!
Horse Show at Blue Ribbon Meadows
We took two horses and a couple riders for some show experience.
Sami placed 3rd and 4th in her walk trot classes. Alyssa took 2nd in the Trail class.